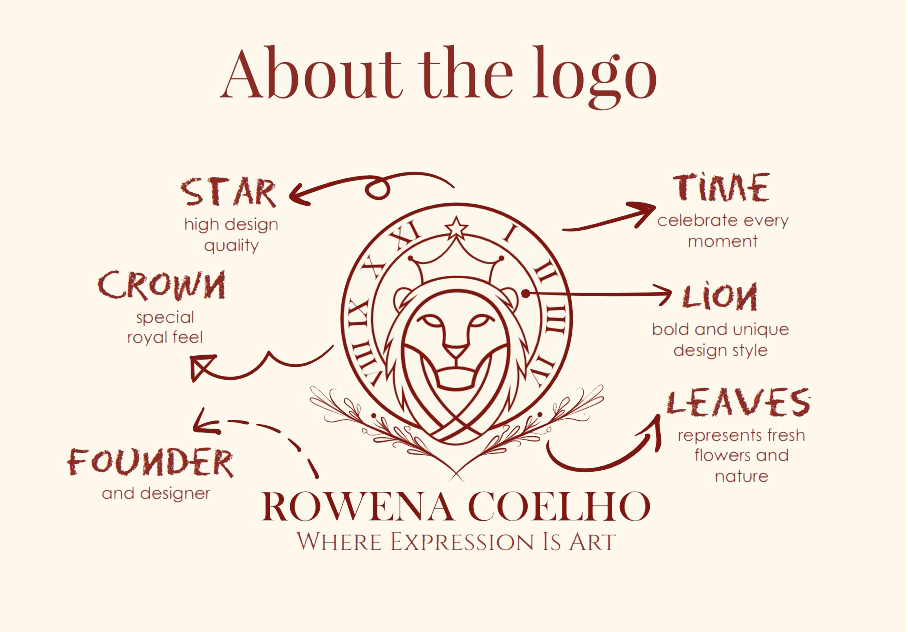 The Rowena Coelho logo and tagline
Our brand's logo receives the same meticulous care and attention to detail that is lavished on each Rowena Coelho creation. Much like one of our bouquets, each element has been chosen for its beauty and the meaning it conveys, and it has all been woven together into a bold work of art.
Our tagline, "where expression is art" perfectly encapsulates Rowena's aesthetic philosophy. She believes that art is a creatively expressed visual representation of thoughts and feelings. Each arrangement speaks to the recipient about the sender's emotions; even though silent, our arrangements wordlessly speak volumes. Art is the perfect medium to express feelings when words can't convey an emotion, and floral art embodies this deeply. Rowena ensures that her design treatment of each floral arrangement perfectly conveys her client's style and emotion in her trademark dramatic, sculptural style.
Her bold, vivid and unique style is represented by a regal lion that forms the focal point of the logo. By using the king of beasts, she conveys courage, nobility, royalty, strength, stateliness and valour that flow through her bold designs. This royal feel is further highlighted by the crown atop his head, which reflects how recipients feel like royalty when gifted such a sumptuous, luxurious and impressive bouquet.
The crown is adorned with a star representing how we reach for the stars in our ceaseless commitment to high quality. Further, we ensure each customer is treated like a star and is offered the perfect recommendation for their needs from within our ultra premium range of flowers and gifts.  
This motif is set on a background of a clock face, which echoes the timeless feel of her floral art and reminds us to celebrate every moment fully. Below this, we see a pair of graceful leaf stalks to symbolize nature and fresh flowers. The foundation of the logo is the designer's name written in a authoritative and professional font, which signals her extensive experience, professionalism and classic style. Below this is our tagline to underscore that her design philosophy which forms the bedrock of our brand.
Has this piqued your interest? Visit our flagship store today to see how our offerings reflect these qualities perfectly.
Newer Post
Why do fresh flowers make the best gifts?